BIO CRAFT Products are Electrophoresis and other instruments for Bio-engineering Researches
BIO CRAFT Products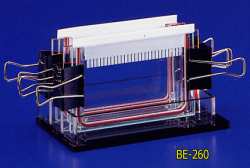 BIO CRAFT Products are useful instruments such as nucleic acid electrophoresis, protein electrophoresis, various blotting apparatus, bio-shaker and other instruments to assist researchers involved in bio-engineering researches. Some of them are complied with specialized specification of their apparatus and parts.
---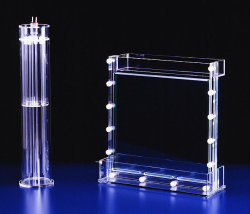 We, EverSeiko Corporation are the sole distributor for overseas customers.
If you are interested in BIO CRAFT products, please feel free to contact us.



Download BIO CRAFT English catalog here

.
---
BIO CRAFT Product Line-up
SUBMARINE ELECTROPHORETIC APPARATUS
COOLING CONSTANT TEMPERATURE ELECTROPHORETIC APPARATUS
SEQUENCE ELECTROPHORETIC APPARATUS
CHROMOSOMAL DNA ELECTROPHORETIC APPARATUS
GENOME SCANNING TWO DIMENSIONAL ELECTROPHORETIC APPARATUS
MINI-SLAB, WIDE MINI-SLAB ELECTROPHORETIC APPARATUS
SLAB ELECTROPHORETIC APPARATUS
DISK ELECTROPHORETIC APPARATUS
BLOTTING APPARATUS
CONSTANT TEMPERATURE CIRCULATOR
ELECTROPHORESIS POWER SOURCE
GEL DRYER
NON-FLUORESCENCE PLATE, PLATE RACK
BIO-SHAKER
---
---